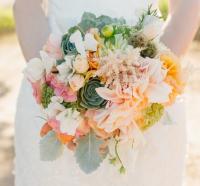 Member Details
Passion Flowers Design
P.O. Box 1717
Buellton, CA 93427
Phone: (805)453-3346

Business Type: Floral Designs for Weddings & Special Events
Member: Laura Cogan
Email: laura@passionflowersdesign.com
Website: http://www.passionflowersdesign.com

Business Description
If you've ever lost yourself in a flower—amid the intricate landscape of petals and emerald foliage—you understand the rapture that inspires Laura Cogan to share this experience with others. As owner of Passion Flowers Design, she creates arrangements punctuated with saturated colors and unexpected textures that convey organic beauty and blissful simplicity.
From aromatic garden herbs, to vibrant tropical flowers and juicy fresh fruit, river rocks, and sculptural driftwood, Cogan draws upon natural elements to create visual haiku. "I find inspiration in the world around me," she explains. "The mountains, vineyards, and seashore infuse my creative process with fresh ideas and unique materials."
Member to Member Discount:
For more information on this Member to Member discount please contact Laura Cogan.