Central Coast RBS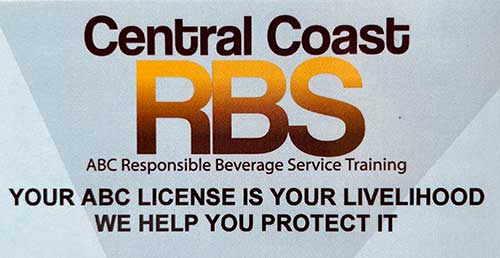 Description
At Central Coast RBS training, we understand that your ABC license is your livelihood and we want to do everything we can to help you protect it.
Our new AB 1221 compliant RBS training course is taught in-person and on-site on the Central Coast as well as virtually via Zoom anywhere in California.
All courses are live in real time. Our live format allows us to tailor courses for specific audiences, industries and license types. You get to ask questions and have them answered by an expert in real time. That level of service and flexibility is unlikely in online formats.
We were one of the first AB 1221 compliant RBS training course providers approved by the California Department of Alcoholic Beverage Control (ABC) under Assembly Bill 1221's Responsible Beverage Service (RBS) Training Program which mandates every alcohol server and alcohol manager be certified under the new state guidelines by July 1, 2022 or face penalty.
This includes anyone who serves alcohol, takes orders for alcohol, pours alcohol, delivers alcohol or checks ID for alcohol service (bouncers) in addition to anyone who oversees, trains or directly hires those listed above.
​The industries we serve include wineries, tasting rooms, breweries, bars, pubs, taverns, nightclubs, restaurants, fast casual dining, movie theaters, hotels, stadiums and any other ABC licensed premise which serves alcohol for on site consumption.
The new regulations and course curriculum focuses on the social impact of alcohol, the impact of alcohol on the body, state laws and regulations relating to alcoholic beverage control and driving under the influence, intervention techniques and management policies.
Emphasis is placed on techniques for preventing the sale and service of alcohol to minors (under 21), those who are overly intoxicated and identification of fake ID's.
Without effective training, employees and businesses face large fines, license suspension or license revocation.
The relationship doesn't end after your team has been RBS trained by Central Coast RBS. W
e will always be available to answer questions, assist with additional training needs and assess any ABC violations for merit in the unlikely event of occurrence after training has been completed. This level of service is what we pride ourselves on and truly sets us apart from online providers.
Serving all locations in Ventura, Santa Barbara, Santa Ynez, Buellton, Solvang, Los Olivos, Lompoc, Los Alamos, Orcutt, Santa Maria, Paso Robles and San Luis Obispo for in person classes. Contact us for locations outside of the Central Coast.
**Our Virtual Instructor Led Training (VILT) Zoom platform makes live training easy and convenient anywhere in CA. Our convenient Zoom format can be scheduled in a single four hour session, in two sessions of two hours each or even in three sessions of an hour and 15 minutes each. This makes scheduling training a lot easier. Contact us by email or phone for upcoming dates. We look forward to seeing you (virtually)
Contact Information
5671 Ekwill St. #103
Goleta, CA 93117